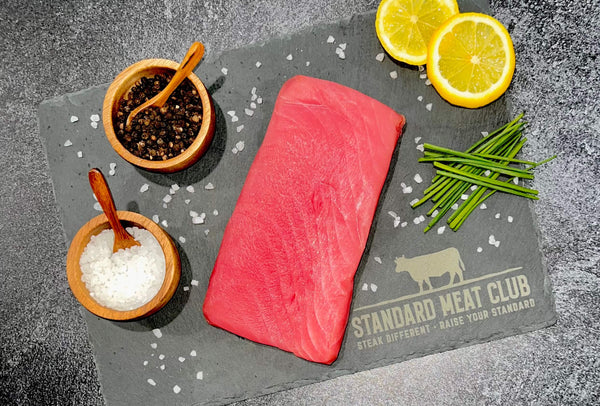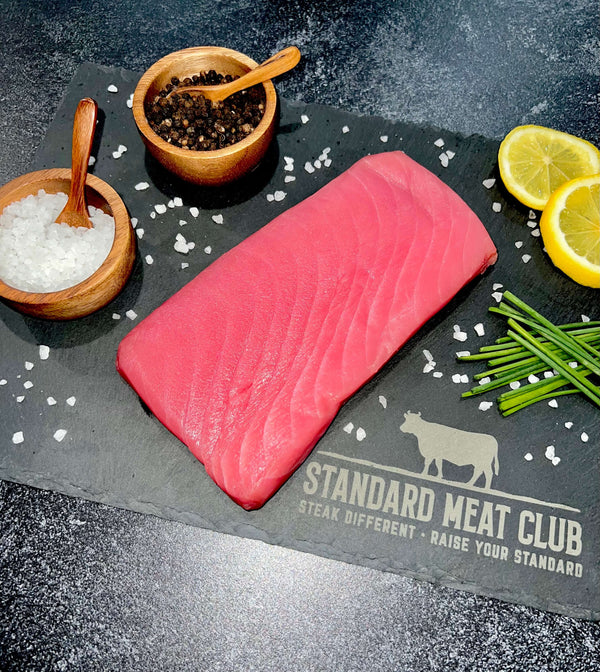 Introducing our Yellowfin Tuna Saku Block AAA+ Sushi Grade – the pinnacle of health-conscious dining and a taste of restaurant-grade excellence in the comfort of your home!
Experience the finest quality Yellowfin Tuna, carefully sourced and expertly prepared to meet the exacting standards of sushi aficionados. Our AAA+ Sushi Grade Tuna Saku Block is a testament to freshness, purity, and taste, making it a delightful addition to your culinary adventures.
Sushi-Grade Excellence: This Yellowfin Tuna Saku Block is hand-selected to ensure it meets the highest sushi-grade criteria. Its pristine texture and impeccable flavor make it a top choice for sushi and sashimi enthusiasts.
Exceptional Health Benefits: Tuna is renowned for its numerous health benefits. It's an excellent source of lean protein, essential omega-3 fatty acids, and essential vitamins and minerals. Incorporating this premium Yellowfin Tuna into your diet is a smart choice for those seeking a nutritious and delicious option.
Restaurant-Grade at Home: Elevate your culinary skills and create restaurant-quality sushi or sashimi dishes in the comfort of your kitchen. Our Yellowfin Tuna Saku Block allows you to craft gourmet meals that rival your favorite sushi restaurant's offerings.
Sustainably Sourced: We are committed to sustainability. Our Yellowfin Tuna is responsibly sourced, adhering to strict environmental standards to protect the oceans and preserve this delectable seafood for generations to come.
Freshness Guaranteed: Each Tuna Saku Block is flash-frozen to lock in its natural flavors and maintain peak freshness. You can be confident that every bite will be as delicious as if you were dining at a top-notch sushi establishment.
Versatile Culinary Possibilities: While perfect for sushi and sashimi, this AAA+ Yellowfin Tuna Saku Block is incredibly versatile. Use it for grilling, searing, or as a delightful addition to salads and poké bowls, expanding your culinary horizons.
Elevate your dining experiences, promote a healthier lifestyle, and indulge in the world of restaurant-grade Yellowfin Tuna with our AAA+ Sushi Grade Tuna Saku Block. With every slice, you'll savor the flavors of the ocean while enjoying the peace of mind that comes from knowing you're making a responsible and health-conscious choice. Make your kitchen the new destination for exquisite sushi – order now and embark on a culinary journey like no other!
Shipping Information
Once we receive your order they are immediately processed by our expert butchers, individually packaged and BLAST FROZEN in our -40 degree fahrenheit super freezer to lock in as much of the juicy tenderness as possible! 
When you place your order, we package all of your products with ice packs and dry ice to ensure a safe transit. If your product arrives slightly de-thawed, don't worry, just pop it back in the freezer or continue to de-thaw in the fridge. 
Our product packaging have undergone thermal testing to ensure that they can withstand extreme conditions for up to 40 hours. 
*Any Order Purchased Monday-Wednesday Before 9AM CST Will Ship The Same Day
Purchased Day 📅 
Purchased Time 

🕘  

Ships 🚚
Delivered 📦
Monday
After 9AM CST
Tuesday
Wednesday
Tuesday

After 9AM CST

Wednesday
Thursday
Wednesday

After 9AM CST

Monday
Wednesday
Thursday

After 9AM CST

Monday

Wednesday

Friday
Anytime
Monday

Wednesday

Saturday
Anytime
Monday

Wednesday

Sunday
Anytime
Monday

Wednesday
Reviews