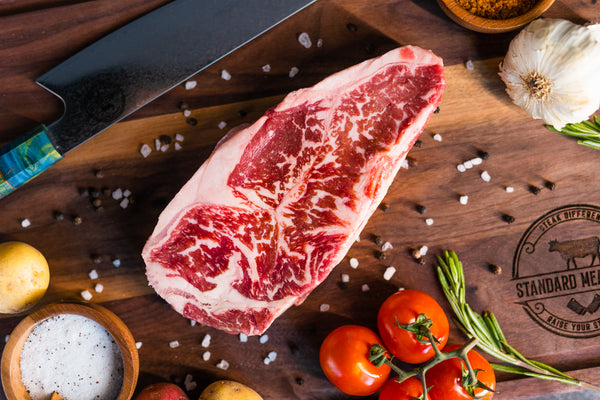 Elevate your culinary journey with the Stone Australian Wagyu NY Strip, a sublime cut graded at a Beef Marbling Score of 6/7. This steak encapsulates the harmony of marbling and mouthwatering flavors, promising a dining experience that is as rich in taste as it is in heritage.
🇦🇺 Authentic Australian Pedigree: Savor the Excellence 🇦🇺 Bred and raised on the lush landscapes of Australia, Stone Australian Wagyu cattle are nurtured to perfection, adhering to the highest standards of quality and care. The NY Strip BMS 6/7 is a showcase of this meticulous attention to detail, providing a cut that is both luxurious and sustainable.
🥩 Balanced Marbling: A Symphony of Tenderness and Taste 🥩 The Beef Marbling Score of 6/7 strikes a perfect balance, offering a generous marbling that imbues the steak with a rich, savory flavor, while maintaining a level of refinement and subtlety. The intramuscular fat ensures every bite is tender, juicy, and laden with the distinctive buttery taste that Wagyu is celebrated for.
🎨 Exquisite Texture: A Journey Through Tenderness 🎨 The Stone Australian Wagyu NY Strip is cut with precision, promising a texture that is both velvety and succulent. The meat effortlessly yields to the knife, revealing a tenderness that is a testament to the quality of Stone Australian Wagyu.
🍳 Culinary Versatility: Cook with Confidence 🍳 Whether grilled, pan-seared, or broiled, the NY Strip BMS 6/7 is a cut that is as forgiving as it is flavorful. It takes well to high heat, developing a beautiful crust that encapsulates its juiciness and taste. The marbling works its magic during cooking, ensuring the steak remains tender and flavorful throughout.
🍷 Perfect Pairings: Elevate Your Dining Experience 🍷 Complement the rich, beefy flavors of the Wagyu NY Strip with a glass of robust red wine, such as a Cabernet Sauvignon or a Syrah. Side dishes like roasted vegetables or a classic steakhouse-style spinach gratin will round out your meal, creating a symphony of flavors that dance on the palate.
BMS 6-7
1x NY Strip Steak (16oz)
Shipping Information
Once we receive your order they are immediately processed by our expert butchers, individually packaged and BLAST FROZEN in our -40 degree fahrenheit super freezer to lock in as much of the juicy tenderness as possible! 
When you place your order, we package all of your products with ice packs and dry ice to ensure a safe transit. If your product arrives slightly de-thawed, don't worry, just pop it back in the freezer or continue to de-thaw in the fridge. 
Our product packaging have undergone thermal testing to ensure that they can withstand extreme conditions for up to 40 hours. 
*Any Order Purchased Monday-Wednesday Before 9AM CST Will Ship The Same Day
Purchased Day 📅 
Purchased Time 

🕘  

Ships 🚚
Delivered 📦
Monday
After 9AM CST
Tuesday
Wednesday
Tuesday

After 9AM CST

Wednesday
Thursday
Wednesday

After 9AM CST

Monday
Wednesday
Thursday

After 9AM CST

Monday

Wednesday

Friday
Anytime
Monday

Wednesday

Saturday
Anytime
Monday

Wednesday

Sunday
Anytime
Monday

Wednesday
Reviews