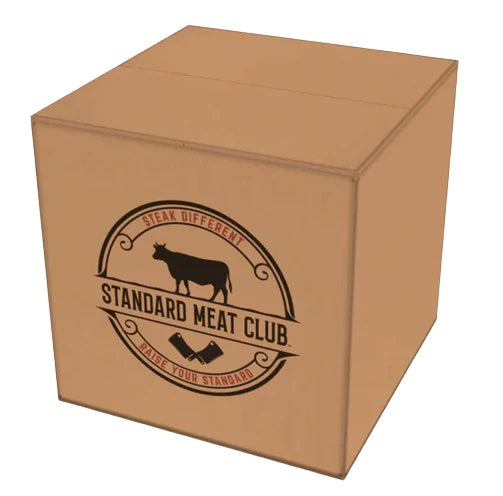 ** 🚚 FREE SHIPPING**
🌟 The Top 1% of USDA Prime: Creekstone Farms takes pride in sourcing and producing only the most exceptional cuts of beef, earning the coveted USDA Prime grade. This prestigious designation is awarded to less than 1% of all beef in the United States. It signifies a level of quality, marbling, and flavor that is truly exceptional.
🌟 2 x 8oz Creekstone Tenderloins: Experience the epitome of tenderness with our Creekstone tenderloins. These prime cuts are meticulously aged and hand-selected to ensure each bite is a masterpiece of flavor and texture.
🌟 2 x 14-16oz Creekstone Ribeye: Revel in the succulent, marbled perfection of Creekstone ribeyes. Our commitment to exceptional quality and taste shines through in every juicy, mouthwatering bite.
🌟 2 x 14-16oz Creekstone NY Strips: Sink your teeth into the bold and robust flavor of Creekstone NY strips. These prime cuts are renowned for their rich taste and exquisite tenderness, making them a favorite among steak connoisseurs.
🌟 2 x 1lb Packages of Creekstone Ground Beef: Craft culinary masterpieces with the versatility of Creekstone ground beef. Our finely ground, USDA Prime beef is perfect for creating gourmet burgers, savory meatballs, and hearty tacos.
At Creekstone Farms, we take pride in delivering the highest quality beef while maintaining strict standards for animal welfare and sustainable farming practices. Our commitment to quality extends to your health, as our beef is free from GMOs, ensuring that you enjoy a wholesome dining experience.
Choose the USDA Prime Creekstone Farms Bundle for a taste of luxury and a commitment to quality that goes beyond the plate. 🌱🐄
**We'll contact you for recipient addresses to ensure smooth deliveries for multiple boxes.**
Shipping Information
Once we receive your order they are immediately processed by our expert butchers, individually packaged and BLAST FROZEN in our -40 degree fahrenheit super freezer to lock in as much of the juicy tenderness as possible! 
When you place your order, we package all of your products with ice packs and dry ice to ensure a safe transit. If your product arrives slightly de-thawed, don't worry, just pop it back in the freezer or continue to de-thaw in the fridge. 
Our product packaging have undergone thermal testing to ensure that they can withstand extreme conditions for up to 40 hours. 
*Any Order Purchased Monday-Wednesday Before 9AM CST Will Ship The Same Day
Purchased Day 📅 
Purchased Time 

🕘  

Ships 🚚
Delivered 📦
Monday
After 9AM CST
Tuesday
Wednesday
Tuesday

After 9AM CST

Wednesday
Thursday
Wednesday

After 9AM CST

Monday
Wednesday
Thursday

After 9AM CST

Monday

Wednesday

Friday
Anytime
Monday

Wednesday

Saturday
Anytime
Monday

Wednesday

Sunday
Anytime
Monday

Wednesday
Reviews