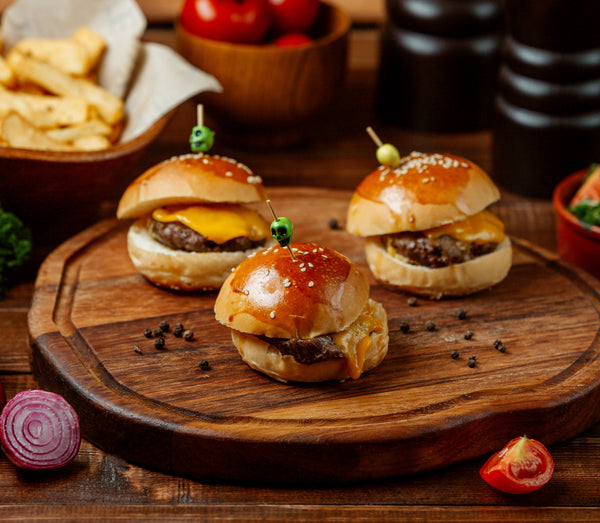 Indulge in the succulent taste and unparalleled convenience of our 3oz Beef Sliders. Perfectly portioned and expertly crafted, these sliders are a testament to quality and flavor, ensuring a delightful culinary experience in every bite.
Perfect Portion: At 3oz each, these sliders are brilliantly sized, providing a satisfying portion that's perfect for parties, barbecues, family gatherings, or even a quick and easy meal at home.

Versatile and Convenient: Ready to cook straight out of the package, these sliders are a chef's dream. Grill them to perfection, bake them in the oven, or pan-fry them on the stove – the choice is yours!

Consistently Delicious: Expect a consistent quality and taste in every batch. Our beef sliders boast a rich, savory flavor, balanced marbling, and a tenderness that melts in your mouth.

High-Quality Packaging: Packed securely and hygienically in a 5Lb package, we ensure that our beef sliders reach you in perfect condition, maintaining their freshness and flavor.

Sourced Responsibly: We are committed to sustainable and responsible sourcing practices, ensuring that our products are not only good for you but also good for the planet.

Culinary Inspirations:

Unleash your culinary creativity with these versatile beef sliders. Top them with caramelized onions, melted cheese, and a dollop of your favorite sauce, or keep it classic with lettuce, tomato, and a slice of pickle. The possibilities are endless!
Shipping Information
Once we receive your order they are immediately processed by our expert butchers, individually packaged and BLAST FROZEN in our -40 degree fahrenheit super freezer to lock in as much of the juicy tenderness as possible! 
When you place your order, we package all of your products with ice packs and dry ice to ensure a safe transit. If your product arrives slightly de-thawed, don't worry, just pop it back in the freezer or continue to de-thaw in the fridge. 
Our product packaging have undergone thermal testing to ensure that they can withstand extreme conditions for up to 40 hours. 
*Any Order Purchased Monday-Wednesday Before 9AM CST Will Ship The Same Day
Purchased Day 📅 
Purchased Time 

🕘  

Ships 🚚
Delivered 📦
Monday
After 9AM CST
Tuesday
Wednesday
Tuesday

After 9AM CST

Wednesday
Thursday
Wednesday

After 9AM CST

Monday
Wednesday
Thursday

After 9AM CST

Monday

Wednesday

Friday
Anytime
Monday

Wednesday

Saturday
Anytime
Monday

Wednesday

Sunday
Anytime
Monday

Wednesday
Reviews