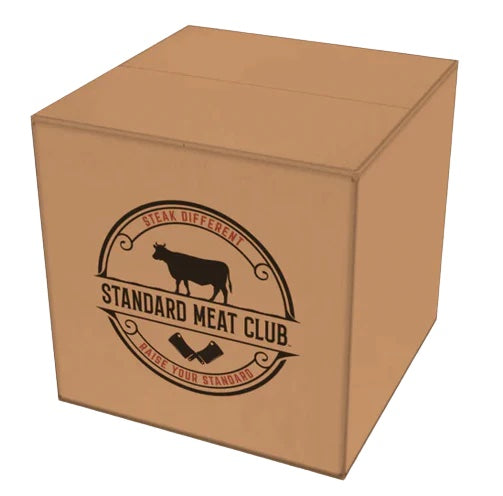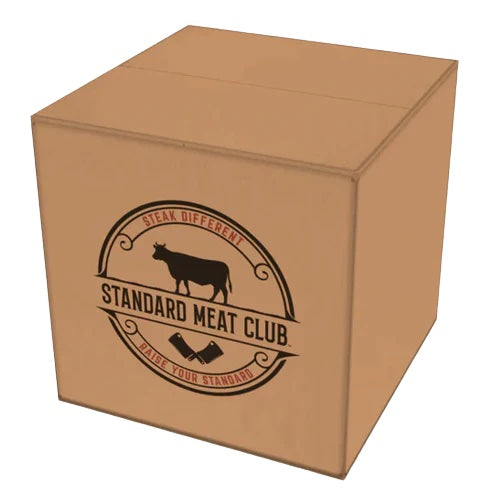 ** 🚚 FREE SHIPPING**
Prepare for an extraordinary dining experience with our meticulously curated selection of the finest beef and seafood. From tenderloins to salmon, this collection is a celebration of premium flavors that are simply the best of the best. 🍽️🌟
🌱 2 x 8oz Masami Ranch Grass Fed Tenderloins: Savor the lean, tender perfection of Masami Ranch's Grass Fed Tenderloins. These cuts are a testament to sustainable farming practices and the pursuit of healthier, delicious beef.
🌟 2 x 14-16oz Creekstone Farms Ribeye: Immerse yourself in the rich marbling and bold flavor of Creekstone Farms Ribeye. These prime cuts represent the top 1% of USDA Prime beef and are a true symbol of quality.
🌟 2 x 14-16oz Creekstone Farms NY Strips: Enjoy the robust, hearty taste of Creekstone Farms NY Strips. These cuts are renowned for their rich flavor and exceptional tenderness, making them a favorite among steak aficionados.
🇦🇺 2 x 8oz Stone Axe Australian Full Blood Wagyu Denver Steaks: Embark on a journey to Wagyu perfection with Stone Axe's Full Blood Australian Wagyu Denver Steaks. The Triple Grand Champion lineage ensures an unmatched level of taste and quality.
🌱 2 x 1lb Packages of Masami Ranch Grass Fed Ground Beef: Craft gourmet dishes with the versatility of Masami Ranch Grass Fed Ground Beef. These fine, non-GMO cuts are perfect for creating a wide range of culinary delights.
🐟 2 x 8oz Ora King Salmon Filets: Delight in the delicate flavor and rich texture of Ora King Salmon, often regarded as the "Wagyu of the Sea." Each filet is a taste of pure luxury from the pristine waters of New Zealand.
🐟 2 x 8oz Chilean Seabass Filets: Savor the buttery and flaky goodness of Chilean Seabass. These filets are a testament to the unmatched quality of seafood from the pristine waters of Chile.
🐟 2 x 8oz Alaskan Halibut Filets: Indulge in the tender, mild flavor of Alaskan Halibut. These filets are a reflection of the pristine, icy waters of Alaska, and their quality is unrivaled.
This collection represents the pinnacle of culinary excellence, bringing together the best of the best in beef and seafood. Whether you're a steak enthusiast or a seafood aficionado, this Surf & Turf Extravaganza promises a dining experience that's truly extraordinary. 🌟🥩🐟
**We'll contact you for recipient addresses to ensure smooth deliveries for multiple boxes.**
Shipping Information
Once we receive your order they are immediately processed by our expert butchers, individually packaged and BLAST FROZEN in our -40 degree fahrenheit super freezer to lock in as much of the juicy tenderness as possible! 
When you place your order, we package all of your products with ice packs and dry ice to ensure a safe transit. If your product arrives slightly de-thawed, don't worry, just pop it back in the freezer or continue to de-thaw in the fridge. 
Our product packaging have undergone thermal testing to ensure that they can withstand extreme conditions for up to 40 hours. 
*Any Order Purchased Monday-Wednesday Before 9AM CST Will Ship The Same Day
Purchased Day 📅 
Purchased Time 

🕘  

Ships 🚚
Delivered 📦
Monday
After 9AM CST
Tuesday
Wednesday
Tuesday

After 9AM CST

Wednesday
Thursday
Wednesday

After 9AM CST

Monday
Wednesday
Thursday

After 9AM CST

Monday

Wednesday

Friday
Anytime
Monday

Wednesday

Saturday
Anytime
Monday

Wednesday

Sunday
Anytime
Monday

Wednesday
Reviews