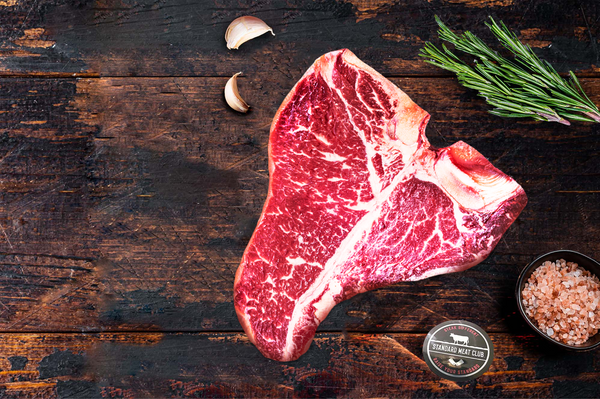 🔥 Epicurean Delight: Stone Axe Wagyu 24oz Porterhouse Steak 🔥

Embrace the pinnacle of gourmet excellence with the Stone Axe Wagyu 24oz Porterhouse Steak, a monumental cut that promises an unforgettable dining adventure. Crafted with passion and precision, this steak embodies the very essence of luxury, flavor, and culinary mastery.

🌱 Authentic Wagyu Heritage: Pristine Farming, Unrivaled Quality 🌱
Stone Axe Farm, situated amidst the idyllic landscapes of Australia, is renowned globally for its dedication to raising authentic Japanese Wagyu cattle in a pristine and humane environment. Our commitment to excellence ensures that each cow thrives, resulting in meat that is not just tender and flavorful, but also consistently of the highest quality.

🥩 The Best of Both Worlds: A Symphony of Flavors in One Cut 🥩
The Porterhouse is celebrated as the "king of steaks," and for good reason. Combining the luxurious tenderness of the Filet Mignon with the robust, beefy flavor of the New York Strip, this cut offers a dual experience that is simply unmatched. At a grand 24 ounces, it's a hearty and impressive option fit for any occasion.

🔍 Marvelous Marbling: Texture and Taste Beyond Compare 🔍
Our Wagyu Porterhouse boasts exceptional marbling, with fine ribbons of fat lacing through the meat, ensuring a buttery smooth texture and a rich, indulgent flavor with every bite. The bone in the steak conducts heat within the meat, cooking it evenly and enhancing its natural flavors and aromas.

🍳 Culinary Canvas: Perfect for Grilling, Broiling, and More 🍳
A favorite among culinary aficionados, this steak is a canvas for your cooking creativity. Whether you're grilling to perfection, broiling to achieve that irresistible crust, or employing any other culinary technique, this steak responds beautifully, promising a delectable outcome every time.

🎉 Elevate Your Dining Experience: Celebrate with Wagyu Luxury 🎉
Make any occasion a grand celebration with the Stone Axe Wagyu Porterhouse. Perfect for anniversaries, birthdays, or simply a night of indulgence, this steak transforms your dining table into a high-end steakhouse.

🍷 Pairing Perfection: Complementing Your Culinary Creation 🍷
Complement your steak with a full-bodied red wine, sautéed mushrooms, and a classic Caesar salad for a meal that is nothing short of a culinary extravaganza. Every bite promises a journey through exquisite textures and flavors, leaving a lasting impression on your palate.



Shipping Information
Once we receive your order they are immediately processed by our expert butchers, individually packaged and BLAST FROZEN in our -40 degree fahrenheit super freezer to lock in as much of the juicy tenderness as possible! 
When you place your order, we package all of your products with ice packs and dry ice to ensure a safe transit. If your product arrives slightly de-thawed, don't worry, just pop it back in the freezer or continue to de-thaw in the fridge. 
Our product packaging have undergone thermal testing to ensure that they can withstand extreme conditions for up to 40 hours. 
*Any Order Purchased Monday-Wednesday Before 9AM CST Will Ship The Same Day
Purchased Day 📅 
Purchased Time 

🕘  

Ships 🚚
Delivered 📦
Monday
After 9AM CST
Tuesday
Wednesday
Tuesday

After 9AM CST

Wednesday
Thursday
Wednesday

After 9AM CST

Monday
Wednesday
Thursday

After 9AM CST

Monday

Wednesday

Friday
Anytime
Monday

Wednesday

Saturday
Anytime
Monday

Wednesday

Sunday
Anytime
Monday

Wednesday
Reviews