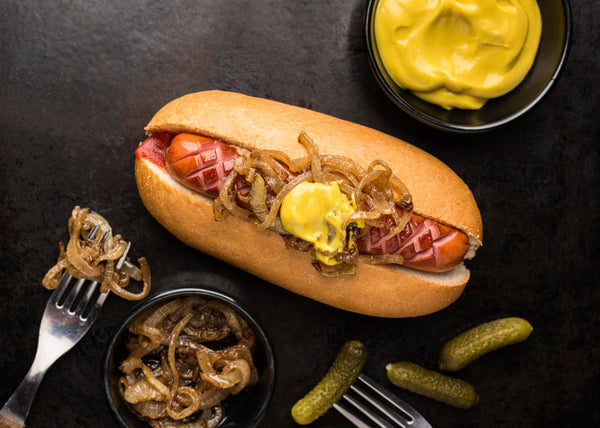 Indulge in a culinary experience that elevates the classic backyard grill to a gourmet extravaganza. Introducing our Kobe-Style Wagyu Monster Hot Dogs: an impeccable fusion of tradition and luxury, and arguably the finest hot dogs you'll ever savor.
Crafted from the renowned Wagyu beef, each hot dog showcases the iconic marbling and rich, buttery flavor that Wagyu is celebrated for. The moment it meets the heat, the fat begins to render, delivering a symphony of taste and an unparalleled juiciness, transforming your palate with every bite.
Say goodbye to the additives commonly found in standard hot dogs. Our commitment is to pure, high-quality beef and nothing else. No fillers, no additives, no preservatives. Only pure Wagyu beef, crafted with meticulous precision and passion.
Elevate your grilling affair and treat your guests to a feast they'll reminisce about for years to come. Whether nestled in a bun with your favorite condiments or enjoyed on its own, our Kobe-Style Wagyu Hot Dogs offer an epicurean journey like no other. This isn't just a hot dog; it's a testament to gourmet luxury.
Transform your grill, enchant your palate, and experience hot dogs as they were meant to be. The pinnacle of grilling awaits.
Shipping Information
Once we receive your order they are immediately processed by our expert butchers, individually packaged and BLAST FROZEN in our -40 degree fahrenheit super freezer to lock in as much of the juicy tenderness as possible! 
When you place your order, we package all of your products with ice packs and dry ice to ensure a safe transit. If your product arrives slightly de-thawed, don't worry, just pop it back in the freezer or continue to de-thaw in the fridge. 
Our product packaging have undergone thermal testing to ensure that they can withstand extreme conditions for up to 40 hours. 
*Any Order Purchased Monday-Wednesday Before 9AM CST Will Ship The Same Day
Purchased Day 📅 
Purchased Time 

🕘  

Ships 🚚
Delivered 📦
Monday
After 9AM CST
Tuesday
Wednesday
Tuesday

After 9AM CST

Wednesday
Thursday
Wednesday

After 9AM CST

Monday
Wednesday
Thursday

After 9AM CST

Monday

Wednesday

Friday
Anytime
Monday

Wednesday

Saturday
Anytime
Monday

Wednesday

Sunday
Anytime
Monday

Wednesday
Reviews