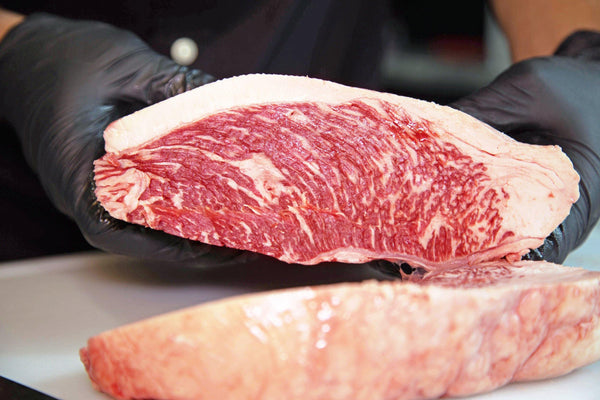 While the picanha may be an unfamiliar cut to many Americans, it's celebrated from the bustling markets of South America to the finest dining establishments across the globe. Known also as the "coutlotte," this cut is a gourmet's delight and is quickly becoming one of our Members' top choices.
Why is our picanha so special? It's sourced from premium Australian Wagyu, renowned for its marbling, tenderness, and unparalleled flavor. This Wagyu picanha is not just meat; it's an experience. Every bite is a journey, a blend of rich culinary heritage and world-class quality.
Want to elevate your dinners? The picanha will transform any meal into an event. Beyond its exceptional taste, we prioritize your health. Our Australian Wagyu picanha is non-GMO, ensuring you're indulging in the purest, most nutritious meat possible.
Dive into a dining experience like no other. Treat yourself to the luxurious taste of Australian Wagyu picanha and discover the culinary secret revered by chefs and food enthusiasts worldwide.
Shipping Information
Once we receive your order they are immediately processed by our expert butchers, individually packaged and BLAST FROZEN in our -40 degree fahrenheit super freezer to lock in as much of the juicy tenderness as possible! 
When you place your order, we package all of your products with ice packs and dry ice to ensure a safe transit. If your product arrives slightly de-thawed, don't worry, just pop it back in the freezer or continue to de-thaw in the fridge. 
Our product packaging have undergone thermal testing to ensure that they can withstand extreme conditions for up to 40 hours. 
*Any Order Purchased Monday-Wednesday Before 9AM CST Will Ship The Same Day
Purchased Day 📅 
Purchased Time 

🕘  

Ships 🚚
Delivered 📦
Monday
After 9AM CST
Tuesday
Wednesday
Tuesday

After 9AM CST

Wednesday
Thursday
Wednesday

After 9AM CST

Monday
Wednesday
Thursday

After 9AM CST

Monday

Wednesday

Friday
Anytime
Monday

Wednesday

Saturday
Anytime
Monday

Wednesday

Sunday
Anytime
Monday

Wednesday
Reviews