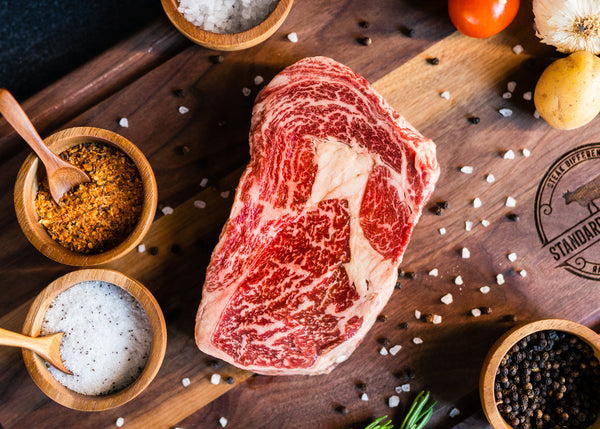 Discover the epitome of beef excellence with our Australian Wagyu Ribeye Filet—a cut that seamlessly blends the bold flavors of ribeye with the tender elegance of a filet. This premium steak promises an extraordinary dining experience, bringing the renowned quality of Australian Wagyu right to your plate.

🇦🇺 Pristine Australian Pastures: The Essence of Quality 🇦🇺
Sourced from the finest Wagyu herds in Australia, our Ribeye Filet benefits from the country's lush pastures and strict farming standards. These cows are raised in optimal conditions, ensuring that every cut meets the highest standards of quality, marbling, and flavor.

🥩 Ribeye Filet: The Best of Both Worlds 🥩
The Ribeye Filet is a unique cut that combines the best characteristics of two steakhouse favorites. From the ribeye, it inherits a rich, beefy flavor and generous marbling, resulting in a steak that's juicy and full of taste. From the filet, it takes its buttery tenderness, providing a melt-in-the-mouth experience that's hard to rival.

🎨 Marbling Mastery: A Canvas of Flavor 🎨
Australian Wagyu is celebrated worldwide for its exceptional marbling, and our Ribeye Filet is no exception. The intricate patterns of fat woven through the meat ensure every bite is succulent, flavorful, and irresistibly tender. This marbling not only enhances the steak's taste but also contributes to a smoother, more luxurious texture.

🔥 Culinary Versatility: Cook to Perfection 🔥
Whether grilled, pan-seared, or roasted, the Australian Wagyu Ribeye Filet rises to the occasion, offering a cooking experience as delightful as the eating itself. This cut is forgiving and versatile, ensuring a delectable outcome regardless of your cooking method of choice.

🍷 Savor the Experience: Indulgent Pairings 🍷
Accentuate the rich flavors of the Ribeye Filet with a bold Shiraz or Cabernet Sauvignon, and complement it with sides like creamy garlic mashed potatoes or grilled vegetables. This steak is a feast for the senses, promising a dining experience that lingers long after the last bite.
Shipping Information
Once we receive your order they are immediately processed by our expert butchers, individually packaged and BLAST FROZEN in our -40 degree fahrenheit super freezer to lock in as much of the juicy tenderness as possible! 
When you place your order, we package all of your products with ice packs and dry ice to ensure a safe transit. If your product arrives slightly de-thawed, don't worry, just pop it back in the freezer or continue to de-thaw in the fridge. 
Our product packaging have undergone thermal testing to ensure that they can withstand extreme conditions for up to 40 hours. 
*Any Order Purchased Monday-Wednesday Before 9AM CST Will Ship The Same Day
Purchased Day 📅 
Purchased Time 

🕘  

Ships 🚚
Delivered 📦
Monday
After 9AM CST
Tuesday
Wednesday
Tuesday

After 9AM CST

Wednesday
Thursday
Wednesday

After 9AM CST

Monday
Wednesday
Thursday

After 9AM CST

Monday

Wednesday

Friday
Anytime
Monday

Wednesday

Saturday
Anytime
Monday

Wednesday

Sunday
Anytime
Monday

Wednesday
Reviews