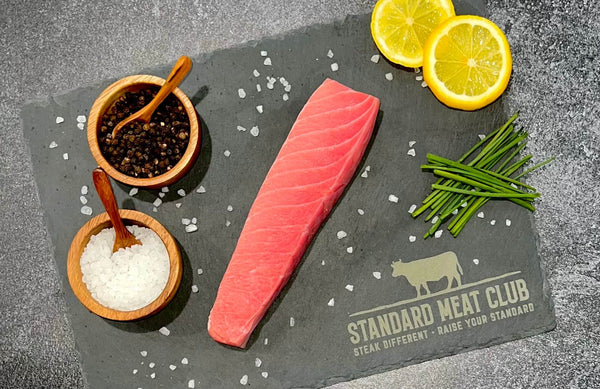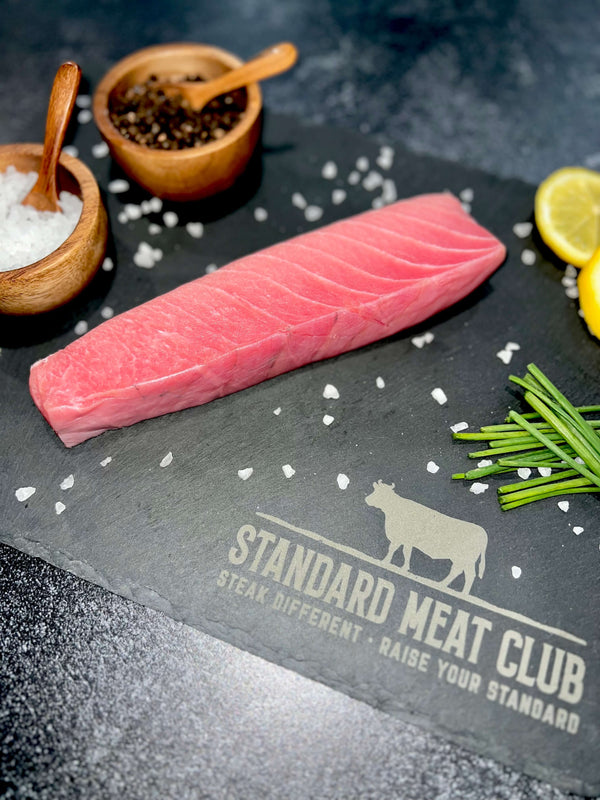 Introducing our Bluefin Tuna O-Toro AAA+ Sushi Grade – the epitome of luxury in the world of sushi, and a gourmet experience that brings the coveted O-Toro cut from the finest Bluefin Tuna directly to your dining table!
Experience the Extraordinary:
Unrivaled Sushi Excellence: Our Bluefin Tuna O-Toro AAA+ Sushi Grade is the pinnacle of sushi indulgence. O-Toro, the most sought-after part of the Bluefin Tuna, is renowned for its exceptional marbling, melting tenderness, and exquisite flavor. It's the true jewel of sushi, and we've brought it to you in its purest form.
Unparalleled Flavor: The O-Toro cut boasts an unparalleled buttery texture and a rich, succulent flavor that simply melts in your mouth. Each bite is an experience of luxury and indulgence, elevating your sushi journey to a level beyond compare.
Health-conscious Gourmet: While indulgent, Bluefin Tuna O-Toro also offers health benefits. Rich in omega-3 fatty acids, it supports heart health and provides a boost of essential nutrients. Savoring this delicacy is not just a culinary delight but a wholesome choice.
Sushi Mastery at Home: With our AAA+ Sushi Grade O-Toro, you have the power to craft gourmet sushi creations that rival the finest sushi bars. Elevate your home dining experience and impress guests with the highest grade Bluefin Tuna available.
Sustainability Commitment: We take our responsibility to the oceans seriously. Our Bluefin Tuna is sourced responsibly and adheres to strict sustainability standards, ensuring that this magnificent species is protected for future generations.
Unwavering Freshness: Our O-Toro is meticulously selected and flash-frozen to preserve its freshness and integrity. Each slice embodies the ocean's essence and the essence of luxury.
Gourmet Versatility: While O-Toro is a sushi superstar, it can also be savored in various culinary creations. From sashimi to tartare, or even lightly seared, its versatility opens up a world of culinary possibilities.
Elevate your dining experience to unprecedented heights with our AAA+ Sushi Grade Bluefin Tuna O-Toro. Each bite will transport you to the world of gastronomic luxury, offering the perfect balance of flavor, texture, and indulgence. Make your moments extraordinary – order now and embark on a culinary journey like no other!
Shipping Information
Once we receive your order they are immediately processed by our expert butchers, individually packaged and BLAST FROZEN in our -40 degree fahrenheit super freezer to lock in as much of the juicy tenderness as possible! 
When you place your order, we package all of your products with ice packs and dry ice to ensure a safe transit. If your product arrives slightly de-thawed, don't worry, just pop it back in the freezer or continue to de-thaw in the fridge. 
Our product packaging have undergone thermal testing to ensure that they can withstand extreme conditions for up to 40 hours. 
*Any Order Purchased Monday-Wednesday Before 9AM CST Will Ship The Same Day
Purchased Day 📅 
Purchased Time 

🕘  

Ships 🚚
Delivered 📦
Monday
After 9AM CST
Tuesday
Wednesday
Tuesday

After 9AM CST

Wednesday
Thursday
Wednesday

After 9AM CST

Monday
Wednesday
Thursday

After 9AM CST

Monday

Wednesday

Friday
Anytime
Monday

Wednesday

Saturday
Anytime
Monday

Wednesday

Sunday
Anytime
Monday

Wednesday
Reviews