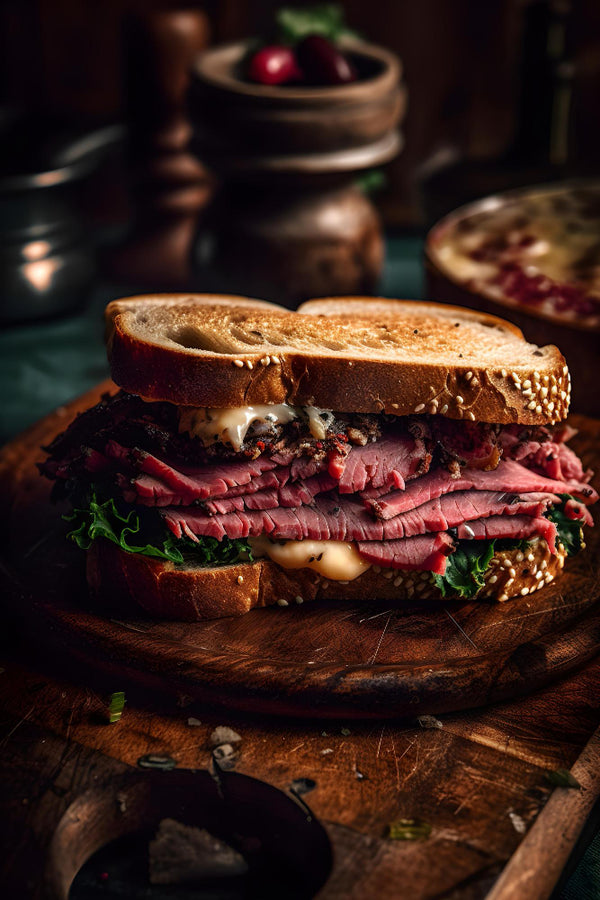 Step into the world of unparalleled gourmet delight with our Australian Wagyu Pastrami. This isn't just any pastrami; it's a culinary masterpiece.
Originating from the pristine pastures of Australia, our Wagyu cattle are reared with dedication and a commitment to superior quality. Rich in marbling, the Australian Wagyu beef is renowned worldwide for its buttery texture, intense flavor, and superior tenderness – a symphony of attributes that sets it apart.
Now, imagine infusing that world-class meat with the aromatic allure of pastrami spices. The result? A pastrami that dances between tradition and luxury, offering an experience that's truly one-of-a-kind.
Every bite of our Australian Wagyu Pastrami tells a story of passion, tradition, and an obsession with perfection. The deep, smoky flavors meld seamlessly with the intricate marbling of the Wagyu, creating an explosion of taste that resonates with every palate.
There's pastrami, and then there's Australian Wagyu Pastrami. It's not just about eating; it's about indulging in an experience. It's about treating yourself to the very best the world has to offer. Whether you're a gourmet enthusiast or simply someone who appreciates the finest things in life, this pastrami is a journey you won't want to miss.
Experience the pinnacle of culinary craftsmanship. Experience Australian Wagyu Pastrami.
Shipping Information
Once we receive your order they are immediately processed by our expert butchers, individually packaged and BLAST FROZEN in our -40 degree fahrenheit super freezer to lock in as much of the juicy tenderness as possible! 
When you place your order, we package all of your products with ice packs and dry ice to ensure a safe transit. If your product arrives slightly de-thawed, don't worry, just pop it back in the freezer or continue to de-thaw in the fridge. 
Our product packaging have undergone thermal testing to ensure that they can withstand extreme conditions for up to 40 hours. 
*Any Order Purchased Monday-Wednesday Before 9AM CST Will Ship The Same Day
Purchased Day 📅 
Purchased Time 

🕘  

Ships 🚚
Delivered 📦
Monday
After 9AM CST
Tuesday
Wednesday
Tuesday

After 9AM CST

Wednesday
Thursday
Wednesday

After 9AM CST

Monday
Wednesday
Thursday

After 9AM CST

Monday

Wednesday

Friday
Anytime
Monday

Wednesday

Saturday
Anytime
Monday

Wednesday

Sunday
Anytime
Monday

Wednesday
Reviews