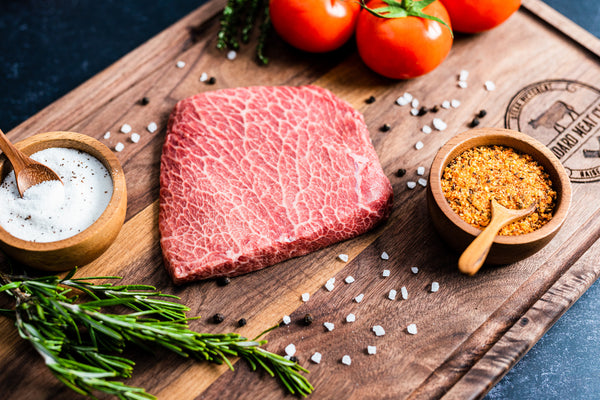 Savor the taste of premium Australian beef with our exquisite Aussie Stone Axe Flat Iron Wagyu Steak. Carefully sourced from the pristine pastures of Australia's hinterlands, this luxurious cut of beef offers a perfect balance of flavor, tenderness, and mouthwatering juiciness.
Each flat iron steak is hand-selected from the finest Stone Axe Wagyu cattle, renowned for their exceptional marbling and rich taste. Raised on a natural diet of lush grasses and grains, these cattle are expertly bred for a minimum of 300 days to ensure unmatched quality and taste.  Stone Axe is the most prized beef out of Australia having won 3 Grand Championships back to back. 
The flat iron cut, also known as the oyster blade or butler's steak, is a distinctive cut that offers the perfect combination of tenderness and flavor. Expertly trimmed to remove any excess fat or connective tissue, our Aussie Stone Axe Flat Iron Wagyu Steak is ready to cook and impress your guests with its delectable texture and buttery flavor profile.
With a marbling score of 8-9+, this steak offers a generous amount of intramuscular fat that melts beautifully when cooked, imparting a rich, buttery taste and tender mouthfeel. The exceptional marbling also ensures that your steak remains moist and juicy even when cooked to a higher degree of doneness.
Cooking this masterpiece is a breeze - simply season the steak with salt and pepper, then sear it on high heat for a perfect crust. Finish by cooking to your desired level of doneness, and be prepared to indulge in a truly unforgettable dining experience.
Indulge in the luxurious taste of Australia's finest beef with the Aussie Stone Axe Flat Iron Wagyu Steak, and treat yourself and your loved ones to a dining experience like no other. Order now and experience the ultimate in gourmet steak satisfaction.
1x Stone Axe Wagyu Flat Iron - 8oz
Shipping Information
Once we receive your order they are immediately processed by our expert butchers, individually packaged and BLAST FROZEN in our -40 degree fahrenheit super freezer to lock in as much of the juicy tenderness as possible! 
When you place your order, we package all of your products with ice packs and dry ice to ensure a safe transit. If your product arrives slightly de-thawed, don't worry, just pop it back in the freezer or continue to de-thaw in the fridge. 
Our product packaging have undergone thermal testing to ensure that they can withstand extreme conditions for up to 40 hours. 
*Any Order Purchased Monday-Wednesday Before 9AM CST Will Ship The Same Day
Purchased Day 📅 
Purchased Time 

🕘  

Ships 🚚
Delivered 📦
Monday
After 9AM CST
Tuesday
Wednesday
Tuesday

After 9AM CST

Wednesday
Thursday
Wednesday

After 9AM CST

Monday
Wednesday
Thursday

After 9AM CST

Monday

Wednesday

Friday
Anytime
Monday

Wednesday

Saturday
Anytime
Monday

Wednesday

Sunday
Anytime
Monday

Wednesday
Reviews