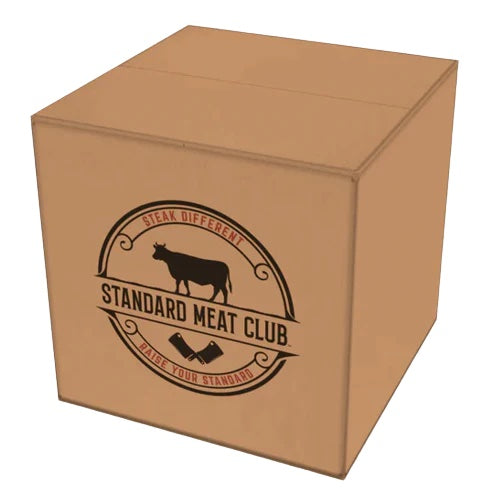 ** 🚚 FREE SHIPPING**
Prepare to embark on a culinary journey of unparalleled luxury with our A5 Japanese Sampler, featuring the pinnacle of beef quality. There simply is no higher quality of beef than this. 🌟
🌟 2 x 13-14oz A5 Japanese NY Strips: Elevate your dining experience with the exceptional richness and marbling of A5 Japanese NY strips. These cuts are a true masterpiece of flavor and tenderness, setting the bar for gourmet excellence.
🌟 2 x 13-14oz A5 Japanese Ribeye: Savor the exquisite buttery texture and flavor of A5 Japanese ribeye. Each bite is a testament to the meticulous care and precision that goes into producing the world's finest beef.
🌟 2 x 8oz A5 Japanese Tenderloins: Experience the ultimate in tenderness with A5 Japanese tenderloins. These cuts are the epitome of melt-in-your-mouth perfection, offering a dining experience that's nothing short of extraordinary.
🌟 2 x 1lb Packages of A5 Japanese Ground Beef: Craft culinary wonders with the versatility of A5 Japanese ground beef. These finely ground cuts are perfect for creating gourmet burgers, meatballs, or any dish that demands the absolute best.
A5 Japanese beef is renowned worldwide for its unmatched quality and flavor. The marbling, texture, and taste are a result of the highest standards in cattle farming and an unwavering commitment to excellence.
When you choose our A5 Japanese Sampler, you're not just selecting beef; you're indulging in the world's most coveted and esteemed meat. There is simply no higher quality of beef than A5 Japanese beef, and each bite is a testament to the artistry and dedication of the farmers and producers who have perfected this culinary treasure. 🍽️🌟🇯🇵
**We'll contact you for recipient addresses to ensure smooth deliveries for multiple boxes.**
Shipping Information
Once we receive your order they are immediately processed by our expert butchers, individually packaged and BLAST FROZEN in our -40 degree fahrenheit super freezer to lock in as much of the juicy tenderness as possible! 
When you place your order, we package all of your products with ice packs and dry ice to ensure a safe transit. If your product arrives slightly de-thawed, don't worry, just pop it back in the freezer or continue to de-thaw in the fridge. 
Our product packaging have undergone thermal testing to ensure that they can withstand extreme conditions for up to 40 hours. 
*Any Order Purchased Monday-Wednesday Before 9AM CST Will Ship The Same Day
Purchased Day 📅 
Purchased Time 

🕘  

Ships 🚚
Delivered 📦
Monday
After 9AM CST
Tuesday
Wednesday
Tuesday

After 9AM CST

Wednesday
Thursday
Wednesday

After 9AM CST

Monday
Wednesday
Thursday

After 9AM CST

Monday

Wednesday

Friday
Anytime
Monday

Wednesday

Saturday
Anytime
Monday

Wednesday

Sunday
Anytime
Monday

Wednesday
Reviews