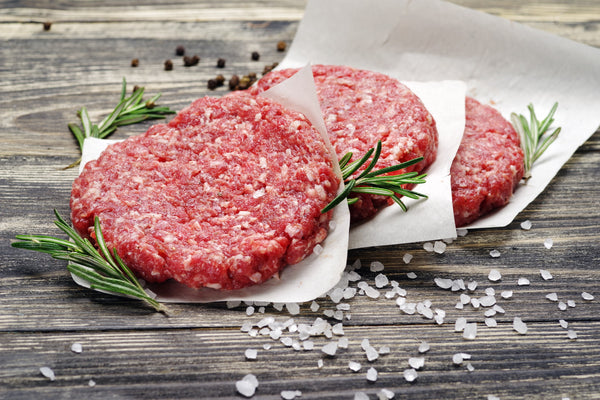 The quest for the perfect burger has ended. You've found it! Inspired by the flavors of Japan, our certified A5 Wagyu burgers offer the highest quality ground beef in the world... rich, tender, and full of flavor.
Indulge in the unparalleled culinary delight of our Premium Japanese A5 Wagyu Beef, now conveniently packaged into 1-pound units, divided into four 4oz patties.
A5 Wagyu from Japan has intense marbling and a rich taste that melts in your mouth. This is some of the most sought-after beef in the world, curated from the best producers we can find and brought directly to your kitchen table.  These burgers will bring your grilling game to a new level.
BMS 8-9

1lb (4x 4oz Burger Patties)
Key Features and Health Benefits of our A5 Wagyu Beef
Superior Flavor and Texture: Enjoy the unparalleled richness and delicate melt-in-your-mouth experience of A5-grade Wagyu.
High Nutritional Value: Packed with heart-healthy monounsaturated fats and omega-3 and omega-6 fatty acids.
GMO-Free Diet: Our Wagyu cattle are fed with a GMO-free grain-rich diet to ensure their health and the quality of the meat.
Stress-Free Rearing: Each of our Wagyu cattle is raised in a serene, stress-free environment with individual care.
Sustainably Produced: Our Wagyu beef is produced following sustainable practices, including efficient use of feed and carbon offsetting through surrounding forests.
Responsible Indulgence: Enjoy the finest quality meat produced with a commitment to environmental responsibility and animal welfare.
Shipping Information
Once we receive your order they are immediately processed by our expert butchers, individually packaged and BLAST FROZEN in our -40 degree fahrenheit super freezer to lock in as much of the juicy tenderness as possible! 
When you place your order, we package all of your products with ice packs and dry ice to ensure a safe transit. If your product arrives slightly de-thawed, don't worry, just pop it back in the freezer or continue to de-thaw in the fridge. 
Our product packaging have undergone thermal testing to ensure that they can withstand extreme conditions for up to 40 hours. 
*Any Order Purchased Monday-Wednesday Before 9AM CST Will Ship The Same Day
Purchased Day 📅 
Purchased Time 

🕘  

Ships 🚚
Delivered 📦
Monday
After 9AM CST
Tuesday
Wednesday
Tuesday

After 9AM CST

Wednesday
Thursday
Wednesday

After 9AM CST

Monday
Wednesday
Thursday

After 9AM CST

Monday

Wednesday

Friday
Anytime
Monday

Wednesday

Saturday
Anytime
Monday

Wednesday

Sunday
Anytime
Monday

Wednesday
Reviews