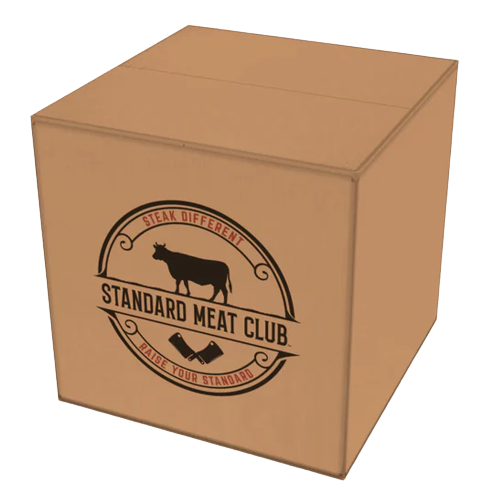 Introducing the Elite Athlete Protein Box - the ultimate subscription for high-performance athletes who demand the best from their bodies and their fuel. This box is packed with a variety of high-quality, nutrient-dense meats that are free of hormones and antibiotics, and sourced from trusted producers who share our commitment to excellence. Each box is carefully curated to provide a balanced mix of proteins, making it easy to get the essential nutrients needed to support your training, recovery, and performance.

What's included in the Elite Athlete Protein Box:
2 lbs of Sonoma Valley Free Range Chicken Breast (Boneless/Skin Off)

2 lbs of Sonoma Valley Free Range Chicken Thighs (Boneless/Skin Off)

2 lbs of Masami Ranch Grass Fed Ground Beef

2x 8oz Masami Ranch Grass Fed NY Strip Steaks (Block Cut)

2x 8oz Masami Ranch American Wagyu Top Sirloin Baseball Cut

2x 8oz Ora King Salmon Filet

At only $199 per box, the Elite Athlete Protein Box is a smart investment in your performance and your health. Whether you're a professional athlete or simply serious about your training, this subscription has everything you need to optimize your nutrition and take your performance to the next level. With a focus on quality, nutrient density, and sustainability, you can feel confident that every bite is fueling your body with the best possible protein sources.
Shipping Information
Once we receive your order they are immediately processed by our expert butchers, individually packaged and BLAST FROZEN in our -40 degree fahrenheit super freezer to lock in as much of the juicy tenderness as possible! 
When you place your order, we package all of your products with ice packs and dry ice to ensure a safe transit. If your product arrives slightly de-thawed, don't worry, just pop it back in the freezer or continue to de-thaw in the fridge. 
Our product packaging have undergone thermal testing to ensure that they can withstand extreme conditions for up to 40 hours. 
*Any Order Purchased Monday-Wednesday Before 9AM CST Will Ship The Same Day
Purchased Day 📅 
Purchased Time 

🕘  

Ships 🚚
Delivered 📦
Monday
After 9AM CST
Tuesday
Wednesday
Tuesday

After 9AM CST

Wednesday
Thursday
Wednesday

After 9AM CST

Monday
Wednesday
Thursday

After 9AM CST

Monday

Wednesday

Friday
Anytime
Monday

Wednesday

Saturday
Anytime
Monday

Wednesday

Sunday
Anytime
Monday

Wednesday
Reviews