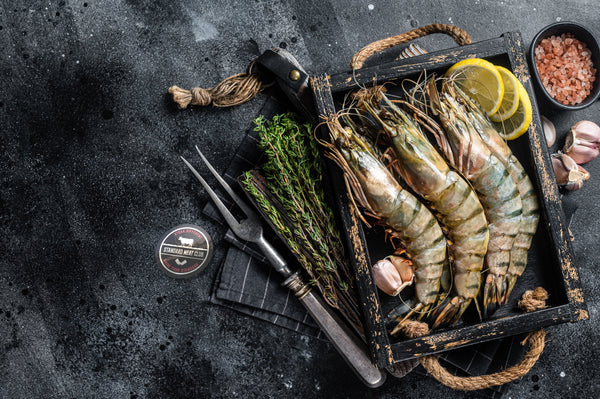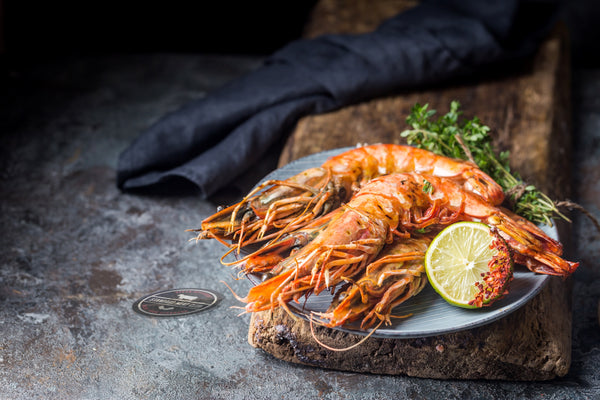 Introducing Monster Tiger Prawns from South Africa - a true delicacy that will take your dinner parties to the next level! These exquisite prawns are a rare find and are renowned for their impressive size and succulent, sweet meat.
Sourced from the pristine waters of South Africa's coastline, these monster tiger prawns are carefully selected for their quality and size. Measuring up to 9-10in long and weighing up to 4-5oz each, these prawns are truly a sight to behold. And once you taste them, you'll be blown away by their delicious flavor and melt-in-your-mouth texture.
When you serve Monster Tiger Prawns at your dinner party, you're sure to impress your guests with their sheer size and delectable taste. They make for a show-stopping centerpiece that's sure to leave a lasting impression on your guests. And when they take that first bite, they'll be amazed at how tender and flavorful the meat is.
These prawns are versatile too - whether you grill, bake or fry them, they'll always taste amazing. And with their impressive size, they're perfect for sharing with a group of friends or family members.
So why not treat yourself and your guests to something truly special? Order Monster Tiger Prawns from South Africa today and take your dinner parties to the next level!
U3/4 Monster Tiger Prawns (3-4 Prawns Per Pound)
Comes in a 4.4LB Package 
Shipping Information
Once we receive your order they are immediately processed by our expert butchers, individually packaged and BLAST FROZEN in our -40 degree fahrenheit super freezer to lock in as much of the juicy tenderness as possible! 
When you place your order, we package all of your products with ice packs and dry ice to ensure a safe transit. If your product arrives slightly de-thawed, don't worry, just pop it back in the freezer or continue to de-thaw in the fridge. 
Our product packaging have undergone thermal testing to ensure that they can withstand extreme conditions for up to 40 hours. 
*Any Order Purchased Monday-Wednesday Before 9AM CST Will Ship The Same Day
Purchased Day 📅 
Purchased Time 

🕘  

Ships 🚚
Delivered 📦
Monday
After 9AM CST
Tuesday
Wednesday
Tuesday

After 9AM CST

Wednesday
Thursday
Wednesday

After 9AM CST

Monday
Wednesday
Thursday

After 9AM CST

Monday

Wednesday

Friday
Anytime
Monday

Wednesday

Saturday
Anytime
Monday

Wednesday

Sunday
Anytime
Monday

Wednesday
Reviews