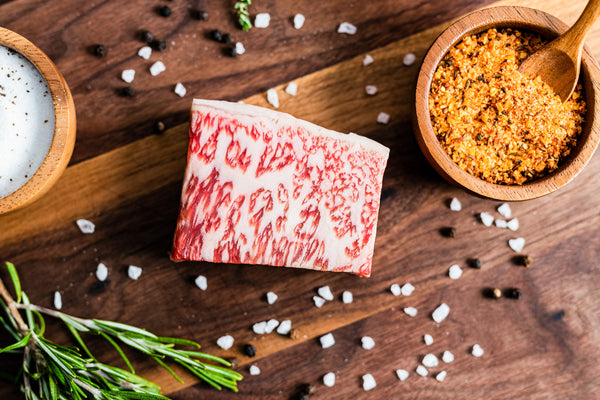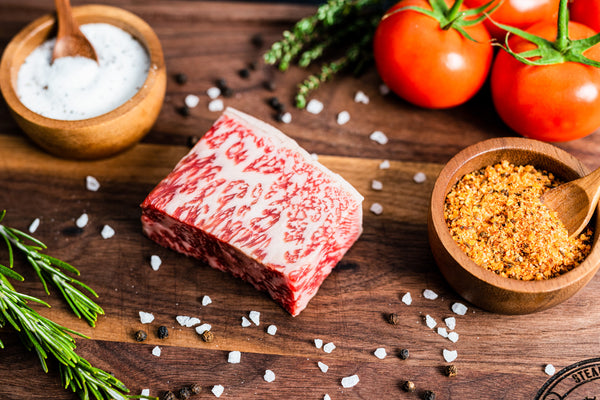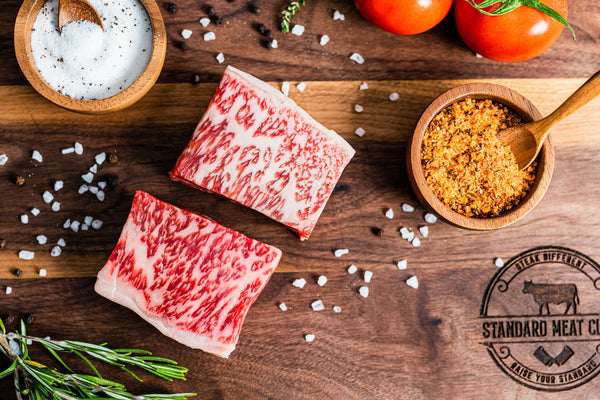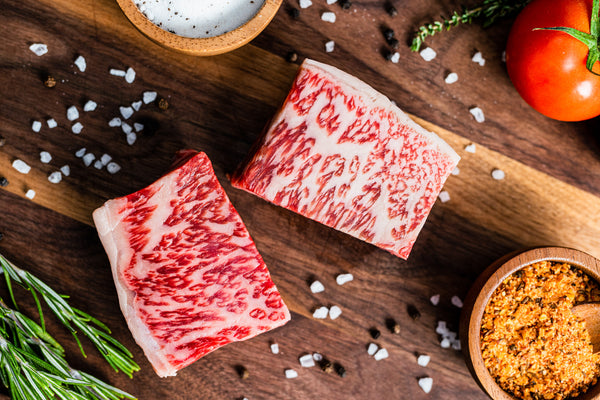 Experience the pinnacle of luxury with our Japanese A5 Block Cut Wagyu Steak, an exquisite and tender cut of beef that will transport your taste buds on a culinary journey like no other. Sourced from the finest Wagyu cattle in Japan, this elite steak boasts a harmonious blend of unparalleled flavor, superior marbling, and succulent juiciness.
Our Japanese A5 Block Cut Wagyu Steak is hand-selected from the most prized Miyazaki Wagyu cattle, celebrated for their extraordinary marbling and melt-in-your-mouth taste. Raised with meticulous care on a diet of high-quality grains, these cattle are nurtured for a minimum of 600 days to ensure the richest flavor and unmatched tenderness.
The Block Cut, an exceptional and perfectly trimmed cut, offers a sublime balance of marbling and leanness. Precisely cut from the center of the striploin, this thick, rectangle-shaped steak delivers a robust and meaty flavor that is perfect for an unforgettable dining experience.
1x Miyazaki A5 Wagyu Block Cut - 8oz 
Shipping Information
Once we receive your order they are immediately processed by our expert butchers, individually packaged and BLAST FROZEN in our -40 degree fahrenheit super freezer to lock in as much of the juicy tenderness as possible! 
When you place your order, we package all of your products with ice packs and dry ice to ensure a safe transit. If your product arrives slightly de-thawed, don't worry, just pop it back in the freezer or continue to de-thaw in the fridge. 
Our product packaging have undergone thermal testing to ensure that they can withstand extreme conditions for up to 40 hours. 
*Any Order Purchased Monday-Wednesday Before 9AM CST Will Ship The Same Day
Purchased Day 📅 
Purchased Time 

🕘  

Ships 🚚
Delivered 📦
Monday
After 9AM CST
Tuesday
Wednesday
Tuesday

After 9AM CST

Wednesday
Thursday
Wednesday

After 9AM CST

Monday
Wednesday
Thursday

After 9AM CST

Monday

Wednesday

Friday
Anytime
Monday

Wednesday

Saturday
Anytime
Monday

Wednesday

Sunday
Anytime
Monday

Wednesday
Reviews