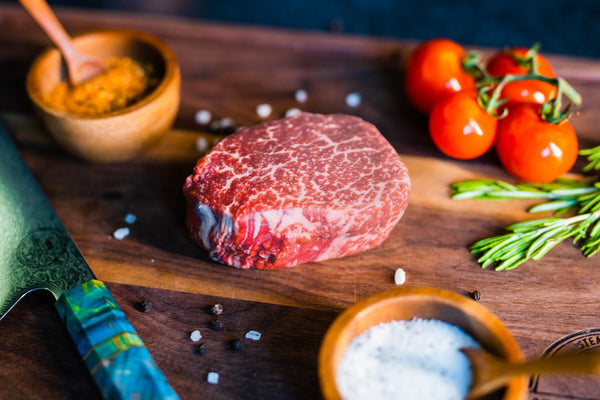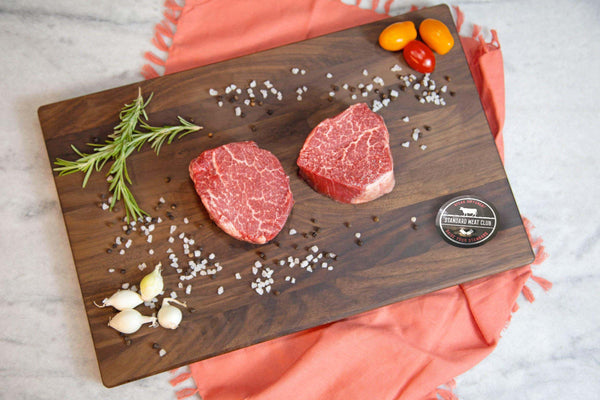 Indulge in the exquisite elegance of the Stone Axe Australian Wagyu Tenderloin, a BMS 6/7 graded masterpiece that promises a dining experience like no other. This cut embodies the pinnacle of luxury and culinary finesse, showcasing the exceptional standards and meticulous care that Stone Axe is renowned for.

🇦🇺 Pristine Australian Quality: The Pinnacle of Wagyu Excellence 🇦🇺
Nestled in the heart of Australia's lush pastures, Stone Axe farms raise Wagyu cattle in the pristine environment they deserve, ensuring optimal health and unparalleled quality. The Tenderloin BMS 6/7 is a direct result of this dedication, a cut that is as rich in flavor as it is tender.

🥩 Tenderloin Perfection: Melt-in-Your-Mouth Luxury 🥩
The Wagyu Tenderloin is renowned worldwide for its incredible tenderness and subtle, sophisticated flavor. With a Beef Marbling Score (BMS) of 6/7, our Stone Axe cut boasts a generous marbling that ensures every bite is juicy, flavorful, and utterly decadent.

🎨 Intricate Marbling: A Dance of Flavor and Texture 🎨
The BMS 6/7 marbling in our Wagyu Tenderloin guarantees a steak that's richly flavorful yet not overwhelming. The delicate veins of fat running through the meat enhance its natural taste and tenderness, providing a harmonious balance that's perfect for those who appreciate the subtleties of fine dining.

🔥 Cooking Perfection: Simplicity Meets Elegance 🔥
The tenderloin is a cut that requires little embellishment, allowing its natural flavors to shine through. Whether you're searing, grilling, or roasting, this steak promises a culinary experience that's as enjoyable to cook as it is to eat. Its forgiving nature ensures a perfect result, even for the novice home chef.

🍷 Elevate Your Meal: Pairing for Perfection 🍷
Complement the delicate flavors of the Wagyu Tenderloin with a glass of full-bodied red wine, such as a Cabernet Sauvignon or a Merlot. Add a side of sautéed mushrooms or a creamy potato gratin to create a meal that's not just dinner, but an event.


Shipping Information
Once we receive your order they are immediately processed by our expert butchers, individually packaged and BLAST FROZEN in our -40 degree fahrenheit super freezer to lock in as much of the juicy tenderness as possible! 
When you place your order, we package all of your products with ice packs and dry ice to ensure a safe transit. If your product arrives slightly de-thawed, don't worry, just pop it back in the freezer or continue to de-thaw in the fridge. 
Our product packaging have undergone thermal testing to ensure that they can withstand extreme conditions for up to 40 hours. 
*Any Order Purchased Monday-Wednesday Before 9AM CST Will Ship The Same Day
Purchased Day 📅 
Purchased Time 

🕘  

Ships 🚚
Delivered 📦
Monday
After 9AM CST
Tuesday
Wednesday
Tuesday

After 9AM CST

Wednesday
Thursday
Wednesday

After 9AM CST

Monday
Wednesday
Thursday

After 9AM CST

Monday

Wednesday

Friday
Anytime
Monday

Wednesday

Saturday
Anytime
Monday

Wednesday

Sunday
Anytime
Monday

Wednesday
Reviews