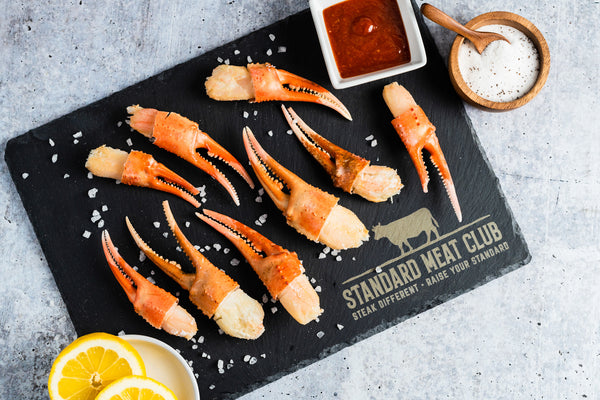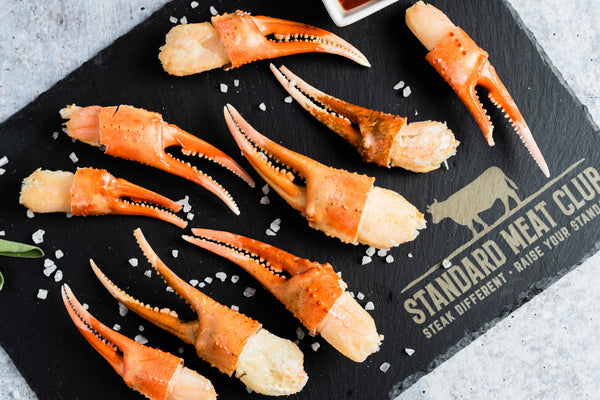 Wild Caught Snow Crab Claws
Regular price
Non-Member Price:
$179.99
Member Price: $161.99
Snow Crabs have been a delicacy for worldwide travelers and locals alike. They have a meaty texture and a sweet taste, making them a popular dish with many cuisines. They may be one of the best tasting seafoods you'll ever eat and are a delicious dish suitable for any occasion. Our customers love to add them as a perfect appetizer.
These crabs are wild-caught in the cold Northern Pacific ocean and the pure white sweet meat is often compared to a cross between Lobster & Crab. Snow Crab actually get their name from the succulent white meat. Enjoy these claws with a nice home made cocktail sauce or melted garlic butter.
1x Package Wild Caught Snow Crab Claws (2lbs Total)

Approximately (22-24 pieces)
The Standard Meat Club Satisfaction Guarantee: We believe in our products and will back them 100%. That is why we offer a money back guarantee. If for any reason you are not happy with the quality of our products simply return them for a full refund.
Shipping Information
Once we receive your order they are immediately processed by our expert butchers, individually packaged and BLAST FROZEN in our -40 degree fahrenheit super freezer to lock in as much of the juicy tenderness as possible! 
When you place your order, we package all of your products with ice packs and dry ice to ensure a safe transit. If your product arrives slightly de-thawed, don't worry, just pop it back in the freezer or continue to de-thaw in the fridge. 
Our product packaging have undergone thermal testing to ensure that they can withstand extreme conditions for up to 40 hours. 
*Any Order Purchased Monday-Wednesday Before 9AM CST Will Ship The Same Day
Purchased Day 📅 
Purchased Time 

🕘  

Ships 🚚
Delivered 📦
Monday
After 9AM CST
Tuesday
Wednesday
Tuesday

After 9AM CST

Wednesday
Thursday
Wednesday

After 9AM CST

Monday
Wednesday
Thursday

After 9AM CST

Monday

Wednesday

Friday
Anytime
Monday

Wednesday

Saturday
Anytime
Monday

Wednesday

Sunday
Anytime
Monday

Wednesday
Reviews